Lenten Series at Christ Church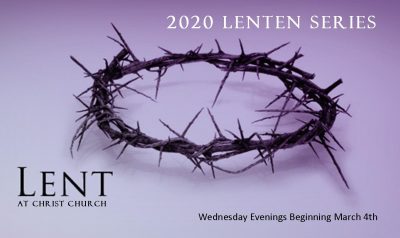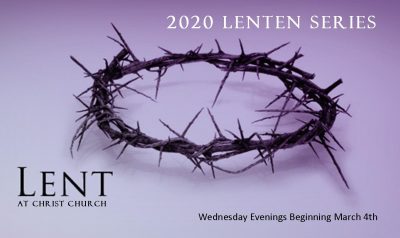 2020 Lenten Series
The Five Wednesdays in Lent Beginning March 4th
The Vestry of Christ Church invites you and your family to join them for a five-week Lenten series of prayer, worship, fellowship and discovery. Learn how our corporate lives as the Baptized bring us closer to all that God desires for us as His Church.
Evening Prayer………………………….. 5:00 PM
Holy Eucharist…………………………… 5:30 PM
Soup Supper…………………………….. 6:10 PM
Lenten Series for Adults & Children …. 6:50 PM
Final Prayer and Dismissal…………….. 7:30 PM
Our children will be instructed in how to reverently remove the ornamentation from retired paschal candles as the means of learning more about Christian symbolism. Each candle will be melted down and poured into tea lamps that will be wrapped for distribution on Easter Day as a reach of Christ's resurrected glory into our homes.
Please plan to be with us as you are able.