The Day of Pentecost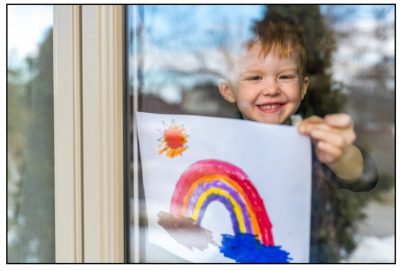 The Day of Pentecost
Sunday, May 31st
Morning Prayer – 8:00 AM
Holy Eucharist – 10:00 AM
Evening Prayer – 5:00 PM
The Sunday service sheet may be found HERE
You are invited and encouraged to join us at 10:00 AM in an Act of Spiritual Communion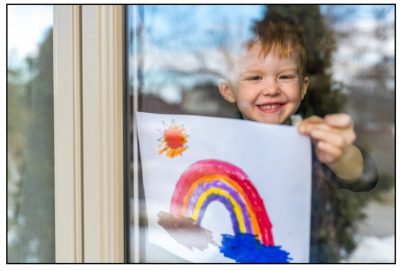 Dear People of God:
As we enter into the Day of Pentecost, I give thanks to God for your lives, your ministries and your patience when it comes to engaging the ongoing sacramental life of the Church. As your wardens and I have shared from the very beginning of this mandated pandemic quarantine, we will follow State and Diocesan directives "without exception." That is because we are a parish of the Episcopal Diocese of New Jersey and the worldwide Anglican Communion. To those relationships, as is with all valued relationships, belong expectations as well as benefits. We are often found to be in the position of needing to set an example to those around us. This time of global public health uncertainty is no different. In fact, our example may be required of us now more than ever.
I want to begin by thanking you for your patience, your reverence and your faithfulness. The epic Bible stories detailing the progression of salvation history are replete with accounts of God's chosen exhibiting such faithfulness in the face of great uncertainty. I have said before, and I will say again, the Lord God Almighty does not willingly afflict nor grieve the children of men (Lamentations 3:33 and BCP pg. 831). However, He most certainly has our full attention now. Regardless of when and how this pandemic ends, God's Holy Name will be glorified and praised for the manner in which He delivers His people.
On the Day of Pentecost, we are invited to see the intended correlation between the descent of the Holy Spirit upon the gathered and expectant disciples and the presence of the pillar of cloud by day and the pillar of fire by night when the Israelites were crossing the Sinai desert. In both cases, the people were delivered, they were sent out on journey, and they were being led by God's mysterious but very real presence. In the latter, the priorities of Egypt and the priorities of the old Jerusalem were being left behind in favor of being driven forward into a new expression of God with us. Yes, the Holy Spirit is power from on high. It also leads its Church. And because it does, we may compare what comes upon us to the leading of the people of God in days of old. The teaching and leading of the Holy Spirit is the sure and certain way to all that has been promised to those who live in Christ our Lord because it is of God and is God. At times treacherous and quite burdensome, but the sure and certain way nonetheless.
As recently as a Zoom conference this past Thursday, Bishop Stokes directed all churches of the Diocese of New Jersey to follow the reentry priorities of a task force that he has established in interest of sharing guidelines and providing a questionnaire for local use. This has been articulated as necessary when discerning our own plan for reentering our sacred space. I can assure you that this parish is 95% of the way to that definition already. Under the dedicated leadership of your Vestry, an "Invitation to Public Worship" brochure has been prepared and formatted for mailing to our parish. It includes applicable best practices as defined by the Center for Disease Control (CDC) and the State of New Jersey Department of Public Health. We now await the work of the Diocesan Task Force to ensure that their concerns are being met.
We cannot move any faster. Nor should we. Our own interests do not trump our being in communion with others. Our strength and agility does not dictate the pace of the entire exodus. One interesting feature of the Exodus through the wilderness was how the people of God kept stopping. They stopped over and over again to erect altars and they stopped to ensure that everyone remained together. Yes, the Day of Pentecost invites our awareness of how it is we are led by a pillar of cloud by day and a pillar of fire by night, but at times that presence rests above the camp and does not go forth until it is time.
With what we know at this time:
We will not meet for public worship within our sacred space on Trinity Sunday (June 7th), even under strict reopening guidelines and in an extremely limited capacity.
The annual parish picnic hosted by our Brothers Andrew at Red Bank Battlefield scheduled for Sunday, June 7th is cancelled.
We will await the findings/directives of the Diocesan task force on reopening.
The work that your Vestry has already accomplished will be updated with any missing elements and immediately submitted for review and approval. Once we have that approval, the guidelines will be mailed to everyone as the means of inviting you back and articulating how we will move forward in faith rather than fear.
Our new organist and choirmaster will be with us on July 1st and bring us through the summer months reverently and joyfully once we are given permission to open our doors.
The manner in which we reinstate non liturgical use of our buildings will be articulated shortly after we concern ourselves with an Invitation to Public Worship.
The manner in which we conduct home Communions will be rearticulated under taskforce guidelines.
Scheduled Baptisms will have to wait.
An anticipated wedding will have to wait.
Confirmations are postponed until 2021.
Our First Holy Communion Class has been postponed until September of 2020.
I respectfully request that if you have any questions or concerns, that you bring them directly to either myself or one of our wardens. We will be glad to share in detail the expectations under which we all live. I was identified by another priest as having my entire vocational identity in need of being before an altar. Absolutely! What that priest did not understand was how that was an extreme compliment to me. Priests most certainly do define their identity by being before an altar. That is why the expectation has long been that priests are ordained to an altar. Deacons are ordained anywhere. Priests are ordained to an assigned altar as it is and should remain the very center of their vocation. It matters not if the chancel and nave has one or 1000 people present when the Mass is being offered. The vocation of a priest is to offer the Holy Sacrifice of the Altar, repeatedly, when it is convenient and when it is not, for the great benefits that Christ pours out of Himself into the world He came to redeem. That once and for all sacrifice is being offered continually before the altar of Christ Church.
We pride ourselves on planning, preparing, visioning, communicating and dreaming. Those priorities will never dissipate as long as I am your rector. I would rather have to cancel programs and activities because we are not ready to move forward in that particular way than leave anyone behind. I speak for your Vestry when I say we don't ever want to be a parish that cannot see into promise and realize that it awaits our arrival as the people of God. Being the Church is at once joyful, expectant, and inviting. Christ Church Woodbury is a parish that leans far into the conversation being had between heaven and earth.
When the Day of Pentecost had come, they were all together in one place. And suddenly . . .
(The Acts of the Apostles 2:1)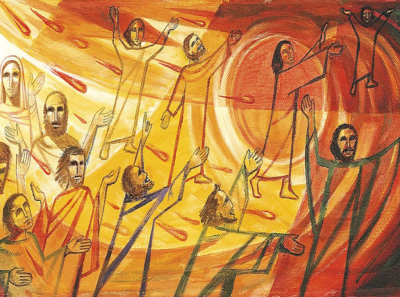 The Holy Spirit is poured out upon the Church in fulfillment of God's promise. I pray that we are preparing ourselves and this parish for the moment of "suddenly." May it not be said of us that the doors were open, and the lights came on and the redeemed of Christ were called forth by the power of the Holy Spirit and we did not know what to do next. If you want to bring your family more deeply into today, talk tonight how it is we are led by a pillar of cloud by day and pillar of fire by night. This, too, is of God. This, too, is God.
We will be back, we will be before our altar, we will offer our voice of common prayer and we most certainly will again taste and see how gracious the Lord is. (Psalm 34:8) It may not be now, but it will most certainly be recognized as being suddenly.
In the peace of God, which passeth all understanding;
Fr. Burgess