Christian Burial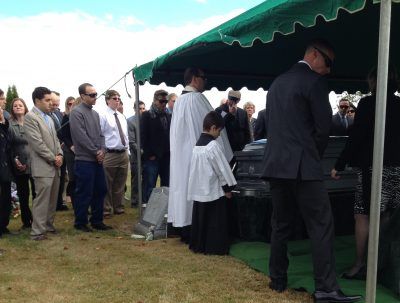 "When a person is near death, the Minister of the Congregation should be notified, in order that the ministrations of the Church may be provided" (The Book of Common Prayer, pg. 462)
"The death of a member of the Church should be reported as soon as possible, and arrangements for the funeral should be made in consultation with the Minister of the Congregation. Baptized Christian are properly buried from the church" (The Book of Common Prayer, pg. 468).
The liturgy for the dead is an Easter liturgy. It finds all its meaning in the resurrection. Because Jesus was raised from the dead, we, too, shall be raised
– The Book of Common Prayer, pg. 507
Christ Church conducts rites of Christian Burial for the welfare of the living and the repose of the departed. Communicants in good standing, members of our parish, family members of those who constitute Christ Church, and those whose membership resides with other parishes are properly buried from Christ Church. Burial rites of the Church begin with Extreme Unction (Viaticum) and continue with Prayers for a Vigil, the Mass of Christian Burial or a memorial Eucharist, the Burial Office conducted in a funeral home setting, and the rite of Committal graveside. All arrangements are made with the family is cooperation with a funeral director licensed in the State of New Jersey.
Each All Souls' Day (November 2nd), a solemn Requiem Mass is offered for the commemoration of all "those we love but see no longer" (BCP 498). Names are remembered before the altar during the Prayers of the People as well as listed in the service sheet.
For information about ministration at the time of death, please contact the parish office at (856) 845-0190.