Rector Search
Our thirteenth Rector, the Rev. Brian K. Burgess, was elected Bishop of Springfield, Illinois, on December 11, 2021. His episcopal Consecration took place at the Cathedral Church of Saint Paul the Apostle in Springfield on May 21, 2022. A delegation of twenty Christ Church parishioners attended and participated in the liturgy. We now have the task of engaging in a process of discernment and searching for the next Rector of Christ Church.
Clergy interested in learning more about our Search Process: please contact the Rev. Canon Joanne Izzo, Interim Canon to the Ordinary and Transitions Officer for the Diocese of New Jersey. Please do not contact anyone at Christ Church directly.
Watch this space for news of our discernment process and Rector search as it progresses.
NEXT STEPS
The Discernment Committee compiles and analyzes the data from the Congregational Discernment Conversation to begin work on the parish portfolio to be published and circulated to potential Rector candidates.
THE STORY SO FAR
July 24, 2022
Congregational Discernment Conversation was conducted by the Rev. Jeffrey Kirk, Diocesan Transition Consultant, in the parish hall following one Sunday Mass at 9 am.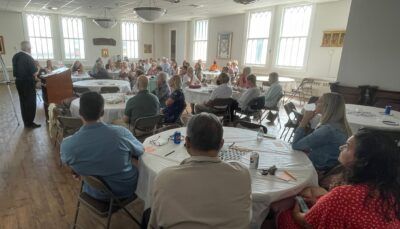 July 11, 2022
Parish Discernment Committee commissioned at the10 am Sunday Mass.
July 5, 2022
The Right Reverend William (Chip) Stokes, Bishop of the Diocese of New Jersey, conducted "Bishop's Town Hall" meeting (hybrid Zoom and in-person).
June 1, 2022
The Rev. John D. Alexander began assignment as Interim Priest.
February 27, 2022
Farewell choral Evensong offered in thanksgiving for the seventeen-year ministry of Fr. Burgess at Christ Church.