Rector Search
Our thirteenth Rector, the Rev. Brian K. Burgess, was elected Bishop of Springfield, Illinois, on December 11, 2021. His episcopal Consecration took place at the Cathedral Church of Saint Paul the Apostle in Springfield on May 21, 2022. A delegation of twenty Christ Church parishioners attended and participated in the liturgy.
We now have the task of discerning future directions and searching for the next Rector of Christ Church.
News of our progress in the discernment process and Rector search is given below. The Discernment Committee opens and closes each meeting with prayer, and we ask all parishioners and friends to continue to pray for us and for the parish.
---
CLERGY INTERESTED IN DISCERNING A CALL TO CHRIST CHURCH
Please contact the Rev. Canon Joanne Izzo, Interim Canon to the Ordinary and Transitions Officer for the Diocese of New Jersey. Please do not contact anyone at Christ Church directly.
Please click here to learn more about Woodbury as a place to live and work!
Watch this space for links to our Office of Transition Ministries (OTM) portfolio and additional information when it is published.
---
NEXT STEPS
October 4, 2022 (Tuesday)
Discernment Committee meeting to review additional forms for OTM Profile, which we hope to submit for Vestry approval at its 10/13 meeting.
---
THE STORY SO FAR
September 19, 2022 (Monday)
Discernment Committee hybrid meeting. Reviewed OTM Profile.
September 12, 2022 (Monday)
Discernment Committee hybrid meeting with Transition Consultant Fr. Kirk present. Continued to review and create responses to the twelve questions on the OTM Profile. Discussed parish financial audit completed on 9/10, which must be approved by Diocese prior to posting the Profile. Received some additional advertising information.
August 31, 2022 (Wednesday)
Discernment Committee Zoom meeting. Began formulating our gathered information and bullet points into sentences and paragraphs to respond to the individual questions. Discussed photos and videos of the Church, Parish Hall, and Rectory for the website. Discussed advertising and other requirements. We have routinely opened and closed with prayer and ask you to continue to pray for the Discernment Committee, the Audit Committee, and the Parish.
August 16, 2022 (Tuesday)
Discernment Committee met via Zoom and reviewed the congregational conversation information again. We are now using these top five responses and including this into our parish profile. We are now preparing to complete the profile with all the information we have been compiling.
Discernment Committee met in person within the Parish Hall to read through each of the individual cards from the congregation conversation on Sunday, 7/24. We read each card out loud documenting and discussing the answers. We looked at the top five responses to each of the five questions proposed at the congregation conversation and compiled that information.
July 27, 2022 (Wednesday)
Discernment Committee & Vestry attended the Diocesan Anti-Racism Zoom Class from 7pm-930pm. Everyone was in attendance and participated along with three instructors from the Diocese.
J
uly 24, 2022 (Sunday)
Congregational Discernment Conversation was conducted by the Rev. Jeffrey Kirk, Diocesan Transition Consultant, in the parish hall following one Sunday Mass at 9 am.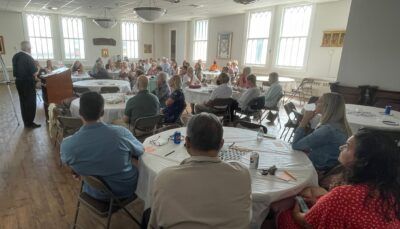 July 11, 2022 (Sunday)
Parish Discernment Committee commissioned at the10 am Sunday Mass.
July 5, 2022 (Tuesday)
The Right Reverend William (Chip) Stokes, Bishop of the Diocese of New Jersey, conducted "Bishop's Town Hall" meeting (hybrid Zoom and in-person).
June 1, 2022 (Wednesday)
The Rev. John D. Alexander began assignment as Interim Priest.
February 27, 2022 (Sunday)
Farewell choral Evensong offered in thanksgiving for the seventeen-year ministry of Fr. Burgess at Christ Church.